Why L'Oréal Alums And WYOS Founders Jamie Glassman and Wendy Charland Believe Self-Care Is Evolving Into Community Care

In 2021, The New York Times columnist Tara Parker-Pope wrote that the most important lesson of pandemic life was, "Self-care isn't selfish." She explained, "During Covid-19, we've learned that we are all connected, and that taking care of ourselves — staying safe and staying well — is a way to care for our community."
But pandemic life didn't lend itself to much connection. Separated by quarantines and personal precautions, people were practicing self-care on their own, whether it involved intentional hair oiling rituals, spritzing mood-lifting scents, relaxing with face masks or lighting candles next to their computers to offset the dreariness of back-to-back Zoom meetings.
Now, Jamie Glassman and Wendy Charland, beauty industry veterans who've combined held marketing positions at L'Oréal, Revlon, Rituals and more, are shifting the self-care narrative to place connection at its core by championing the notion of "community care" at their new brand WYOS. They believe community care resonates with WYOS's target gen Z consumers.
"They want to feel good, they want to look good, but they're rooting for everyone else around them as well. This idea of what does self-care look like I think evolved for this generation in that they're not living life the way millennials did. They're not all graduating into a desk job. They had formative time during the pandemic, and they were doing work remotely from Airbnbs, not even home," says Charland. Glassman chimes in, "What we've seen is an evolution from this deep competitive nature to this feeling of a responsibility to community."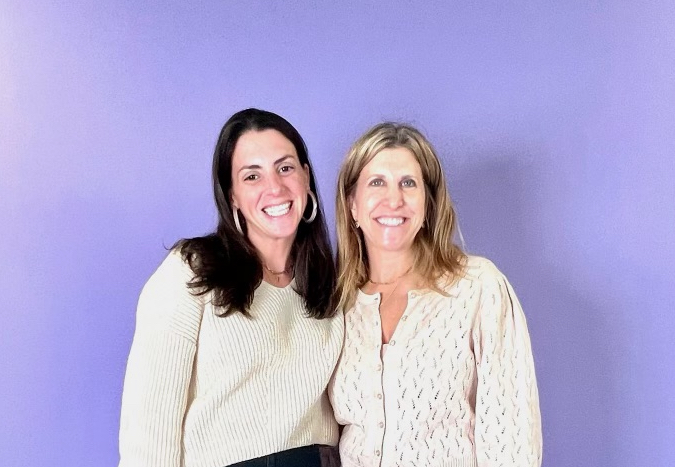 What's evolving are views about brands, too. Charland and Glassman point out that gen Zers consider brands members of their communities. As a result, they demand brands be accountable to their communities—55% of them choose brands that are eco-friendly and socially responsible, according to a global survey by IBM Institute for Business Value in association with the National Retail Federation of 15,600 people aged 13 to 21—and community care responds to that demand by placing WYOS inside their customers' community alongside them.
"They really define themselves by the brands they surround themselves with," says Glassman. "Millennials said they did, and they said they cared, but they never acted on that. I actually spoke to an executive at Amazon who said, 'Every millennial says they care about what the brand cause is or the origin of the products, and nobody purchases that way. They purchase with their wallet and with what's on trend.' This is totally different. They [gen Zers] truly purchase brands they identify with, and they scream those brands names from the rooftops."
She continues, "70% of them actually relate better to their digital communities than their physical communities, which I also think changes what self-care means. It's not as much about going and getting a massage with a girlfriend as it might be engaging with your digital community in some way. I think that has changed the dynamic in a big way."
WYOS, which stands for "write your own story," is putting community care into practice with a few different methods. Prior to its official launch on Feb. 7, it's asking customers to sign and share what it calls a pledge of values or POV that signals a commitment to gratitude, no ghosting and respect. For every pledge, WYOS donates $1 to The Madhappy Foundation. It will donate up to $50,000 to the nonprofit dedicated to advancing mental health conversations and plans to team up with other organizations going forward.
"What we've seen is an evolution from this deep competitive nature to this feeling of a responsibility to community."
"It's nice you donate money because people buy your products, but it's a little bit performative. You're donating money because people are buying your products not because they're doing something that is better for the environment or that is moving mental health forward," says Glassman. "I think the [POV] concept came from, how cool would it be if we can donate money to move mental health forward by having people take an action that moves mental health forward?"
The pledge isn't only for external use. Glassman and Charland underscore it dictates WYOS's behavior, too. "Brands are held, correctly, to very high standards today, and we hold ourselves to very high standards. So, acting with integrity is extremely important to us," says Glassman. She elaborates, "The POV is just a self-reminder. We have to remind ourselves all the time, respond to that email somebody sent you or make sure you respond to that DM and that we have gratitude through the process."
The focus on gratitude and respect extends to the people and companies WYOS partners with. The brand has secured an undisclosed amount of funding, and Glassman mentions it rejected investors as it was fundraising because of how they treated her and Charland. "We decided not to take their money because we didn't want to work with them—and it's hard to raise money. It is fucking impossible," she says. "We've turned down money because it's not the kind of people we want on our cap table."
Beyond the pledge, WYOS is putting community care into practice by spotlighting members of its community. Rather than celebrities, influencers or even the founders being the faces of the brand, WYOS is turning its customers. Glassman says, "This is sort of an anti-celebrity brand that is powered by the most relevant voices of the generation, which are theirs."
Charland adds, "We will feature them in our campaigns, in our social telling their stories, and it doesn't just have to be about product. It can be telling your story about your mental health struggle, telling your story about going surfing, whatever it is, it's about integrating those consumers and their uniqueness into the brand."
WYOS is kicking off in direct-to-consumer distribution with five stick-based products priced from $16 to $24: face cleanser The Clean Sweep, all-over moisturizer The Shining Star, purifying mask The Big Reveal, shampoo The Mane Event and shaving suds The Disappearing Act. Citing an estimate from industry sources, the publication Women's Wear Daily revealed the brand is projected to reach between $10 million and $15 million in first-year sales.
WYOS is expected to enter physical retail later this year. It will expand its product lineup in June and is concentrating on categories gen Z is particularly active in. Glassman emphasizes, however, "This brand is more than just product. This brand is really about community, and how do we create a community through adding value outside of just the product?"